The First Passage
The image to right is the peaceful view looking aft aboard S/V Sea Fox. As a matter of fact, it is looking straight back toward where we just were. We left Marina del Rey 9 hours ago and enjoyed a peaceful sail due south. It was a simple sail to navigate. Nevertheless, this easy day marked my first passage. This would be the first time I spend more than 3 days living aboard.
We each planned to cook one of the main meals. As a result, one of the things I was most looking forward to was my night in the galley. I planned a simple yet flavorful beef stew in a brown sugar & bourbon sauce. It would simmer for hours in my 60-plus-year old cast iron kettle. I might start an entire blog category dedicated to telling the tales of the meals cooked in this fascinating piece of iron!
A Focus on Food
Here you can see what went in to the stew. It's a no-word photo recipe for ya! I cheated (a little) and the sauce was not a scratch-made adventure. Hey, I wanted to keep it simple and also focus on sailing too! Incidentally, this image is from my kitchen a few weeks earlier. I did a dress rehearsal preparation of my proposed meal on land. I also ate it all. What you see here served all 5 crew with plenty of leftovers. In my test case, however, it served one me for 4 days. I guess I eat more on land.
As you know, when making a passage the competition for refrigerator space is fierce. Because of this, the aim for this dish was to use as many ingredients as possible with "room temp" storage needs. Only the mound of beef required refrigeration. I froze it solid a few days before in order to buy us even more time and let it thaw out in the ice chest the first night. At the same time, while it was frozen it helped keep all the other things cold.
Certainly you are hungry now! It seems to me that today is the day I decide to add another blog category, something, say, with a bunch of recipes for the galley!
A Few More Photos for You
Here's a nice gallery of a few more photos from the trip. Enjoy a peek into the adventure of S/V Sea Fox and her 5 mates. Most noteworthy on the trip, we hadn't seen much–if any–sea life the entire week.
However, on the way home, while we were making almost 9 knots, all of a sudden that changed. We were only about an hour away from casting our dock lines ashore and ending our trip with no animal sightings. Meanwhile, a pod of about 100 dolphins were heading toward us from starboard. Non one knew it. Then, in a glorious concert of leaps and dives, 100s of beautiful dolphins breached the surface and escorted us home. We all squealed with delight.
Live in each season as it passes; breathe the air, drink the drink, taste the fruit, and resign yourself to the influence of the earth.
Henry David Thoreau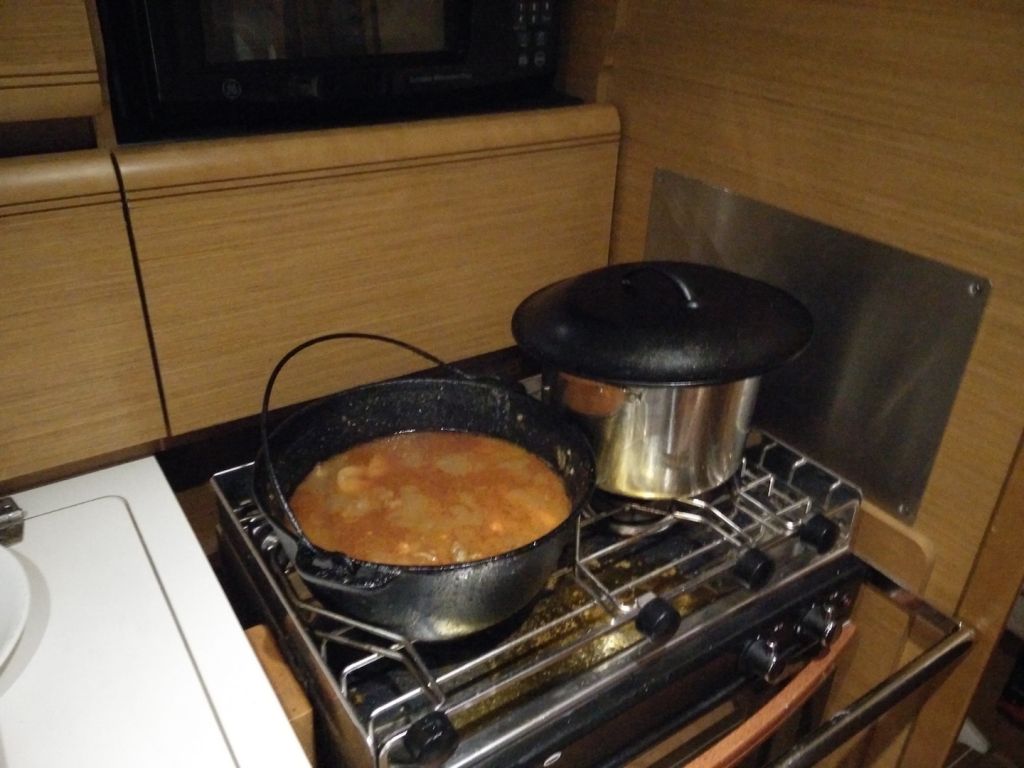 Finally, here is that Brown Sugar Bourbon Beef Stew! Just look at her simmering happily on the stove in the galley! We were on a mooring, so cooking in the galley was easy for this one. Tune in to "making tuna salad at 8 knots" for the other side of that coin!
Actually, it was a fine and delicious spicy Chipotle Tuna Salad with crisp carrots and onions, nestled atop sharp cheddar cheese on rustic sourdough, to be exact. I made it while we were under sail en route to Emerald Bay from Avalon. In any other conditions, it would be just another tuna salad. However, this milestone preparation while underway while reaching almost 8 knots had just a little after taste of victory.